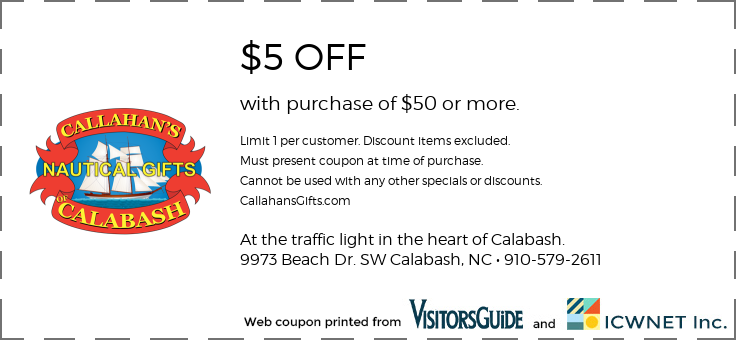 print
For over 40 years, the same corner has been home to a staple in the Calabash community, Callahan's. Locals and tourists alike are loyal to Callahan's because of our vast selection of home décor, holiday décor, gifts, and apparel sprawling over 35,000 square feet. Because we are family-owned and operated, Callahan's is not only home to nearly every collectible imaginable but also to our employees, many of whom have been a part of the Callahan's magic for over a decade and hold our business near and dear to their hearts. We strive to become a part of your family traditions and look forward to bringing you and your loved ones into our enchanting shop for many years to come.
If it's nautical or shore décor you're looking for, you'll surely find it here in our Calabash gift shop! There are sea captains and sea life, corks and nets, shells and sculpture, and intricate boats, both in and out of bottles. Like lighthouses? Choose from replicas, photos, maps, books and more, depicting lighthouses from up and down the coast.
Want to remember your Myrtle Beach vacation with a tee shirt? You'll find a wide assortment, including Life is Good®, in every size and color, along with caps and tote bags.
Don't pass the fudge counter without a sample! You'll want to indulge yourself in one or more of Callahan's delicious, creamy creations.
Those who love decorating for Christmas will be as happy as kids on the big morning when they reach the St. Nick Nacks area of the store. Beginning years ago with a single tree hung with sand dollars, the Christmas shop has grown to include 100 decorated trees in dozens of styles and colors, from traditional decked in red and green to the currently popular tinsel trees in a number of bright hues. Look closely and you'll even spot an upside-down tree! Among the more than three million shimmering, shining, and colorful ornaments are a wonderful selection of Christopher Radko, Dept. 56, and Mark Roberts Fairies. Also popular are the exquisitely detailed Jim Shore figurines. A Christmas shopping experience unlike any other on the Strand!
Additionally, St. Nick Nacks has Easter decorations and a room dedicated to Halloween, the second most popular decorating holiday.
Can't find exactly what you're looking for? Just ask. Customer service at Callahan's is superior. Many employees have been here for more than 15 years, and it shows! Be sure to visit Callahan's brand new Jewelry Boutique, featuring great lines such as Trollbeads, Liquid Metal, Waxing Poetic, Bonn Bons, and Kameleon, not to mention an extensive collection of all things Vera Bradley.

Open 9am-10pm Daily
Ship by Phone: 910-579-2611
9973 Beach Drive Calabash, NC 28467