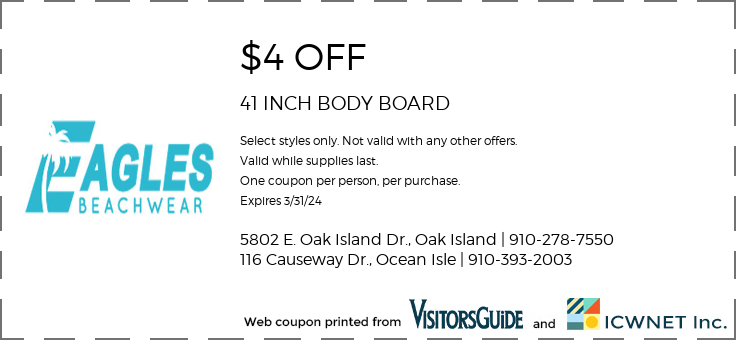 print
Eagles Beachwear has been the premier beach store serving the Grand Strand for over 30 years and has more than 20 locations across the Myrtle Beach area. Since 1981, Eagles Beachwear stores have been recognized for great selection, high quality and affordable prices.
We offer thousands of items from top brands like Lifeguard, Speedo, Panama Jack, Beach Patrol, Hobie, The Bikini Lab, and Rio, as well as so many others. Whether you're in Myrtle Beach as a permanent resident or a temporary visitor, you'll find everything you need to enjoy the summer season at Eagles Beachwear. Our passion for quality starts with our products, which include beach towels, chairs, umbrellas, swimwear, toys, clothing, footwear, etc. From body boards for riding the surf to swimsuits for all ages, it's one stop shopping for the entire family all year round!
As part of a continuous effort to grow new business, the Eagles Beachwear expansion includes this online store, which now extends the local shopping experience to a global market. Customers will be able to shop from the convenience of their own home, purchasing anything from hats and flip flops, to mugs and picture frames. But not only do we strive to provide our customers with the best inventory, we also realize the importance of dedicated customer service. Our friendly staff and knowledgeable team do our best to make your experience with Eagles Beachwear one that you will always remember.