Visitors to historic Southport who want to make a beach escape, or Carolina Beach travelers who need an easy yet scenic route to head south will find the Southport / Fort Fisher ferry a convenient yet completely unique way to explore the southern North Carolina coastline. Though just a short 35 minute ride from the mainland to Pleasure Island, (the home of Fort Fisher State Park, Carolina Beach and Kure Beach), this ferry trip nonetheless gives its passengers exceptional views of the Cape Fear River, and an incredible story to take back home.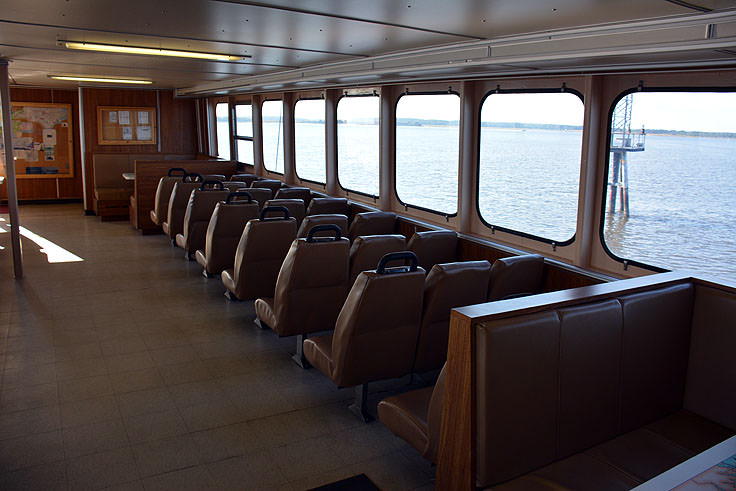 The Southport / Fort Fisher ferry is one of seven North Carolina Department of Transportation (NCDOT) ferries that service the slightly-inland communities and barrier islands of the state. Southport and Fort Fisher are actually the southernmost terminals of the ferry routes, and provide a valuable service to both Carolina Beach residents and visitors alike.
Connecting Pleasure Island with the mainland, the ferry can save Fort Fisher or Southport visitors plenty of driving time by circumventing the vehicular route that goes up the coast, crosses over the Wrightsville Beach Bridge (or US 74) in the town of Wilmington, and then heads back south to the respective Southport or southern barrier island destination. Instead, the ferry provides virtually a straight shot across the wide Cape Fear River, connecting the two remote communities, and giving southern North Carolina fans an easy way to access the stunning coastlines of Fort Fisher, Kure Beach and even Carolina Beach.
The ferry can be accessed in Southport via route 211, and by Fort Fisher by basically following 421 south until it ends. Both terminals have public restrooms, concessions, and plenty of local area information for newcomers to the area. Reservations are not required, however a small fee applies to both passengers and vehicles wishing to board. For a one-way fare, pedestrians are charged $1.00, bicyclists are charged $2.00, motorcycles are $3.00, and standard vehicles and trucks, (without trailers, boats, or any other towing apparatus), are $5.00. Larger vehicles over 20' feet are $10.00 and trucks and RVs that are over 40' feet long are $15.00.
The ferry schedule varies depending on the time of year, but generally runs year-round from 5:30 a.m. until 7:00 p.m., depending on the departure ferry terminal. From late September until the end of March, the ferry has approximately 14 crossings throughout the day, leaving each terminal every 45 minutes or so, and in the summer season from April until shortly after Labor Day, the runs increase slightly to around 16 crossings per day.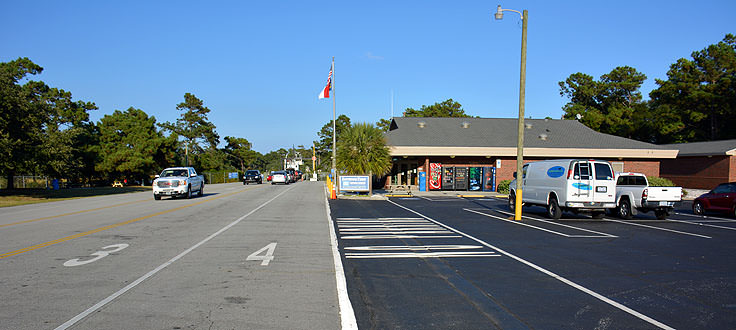 Reservations are not required, however travelers are advised to watch out for popular "prime times" when lines can be long, and a wait is to be expected. Summertime weekends are especially popular, as are long weekend holidays and mid-morning arrivals to Fort Fisher or late afternoon departures headed back to Southport. Visitors who want to stay ahead of the traffic are advised to aim for a weekday, when ferry traffic is significantly less, or try to be an "early bird" and catch the 8:30 a.m., 7:45a.m., or even 7:00 a.m. departure when ferry traffic is minimal.
The trip to and from Fort Fisher is a fun aspect of a Carolina Beach vacation in its own right, featuring incredible far-away views of the banks of the Cape Fear River, dozens if not hundreds of seagulls that follow the stern of the boat begging for handouts, and miles of open water in virtually every direction.
Cameras are a must for this adventure, and the ferries provide ample space along the outdoors decks to enjoy the views, as well an expansive climate controlled passenger lounge on the top level of the ship to enjoy a bird's eye vista in comfort. Restrooms and water fountains are available as well, and visitors are free to get out of their vehicles and explore the ferry at their leisure. Even pets are allowed provided they are leashed, however, visitors should note there is no smoking or alcohol allowed anywhere on board.
Ferry passengers will also enjoy a fantastic treat around sunset, when the Cape Fear River lights up in hues of orange, pink and purple, and passing schools of fish and flocks of migrating birds add to the inspiring natural scene. Essentially, the river views are unparalleled in this part of southern NC, and the short 35 minute trip will illuminate this region of the coastline and present an entirely new perspective of the Cape Fear River for infrequent visitors and longtime residents alike.
A less congested way to tour the coastline, and an often welcome break out of the car for long distance travelers, the Southport / Fort Fisher Ferry is easily the most scenic way to reach the beach. Relaxing, accommodating, and altogether a fantastic way to explore the wide open expanse of the Cape Fear River, a quick trip on the Southport / Fort Fisher Ferry is sure to become a favorite memory of any Carolina Beach, Kure Beach or Fort Fisher vacation. Arrive early with the sunrise, or catch an evening sunset, and make your trip to or from Pleasure Island an undisputed part of the fun and overall coastal experience.