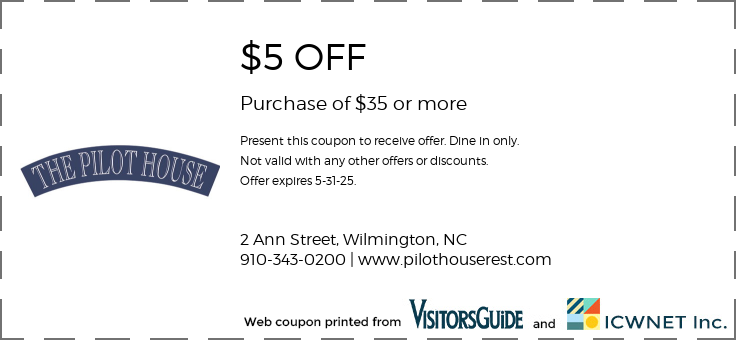 print
Fresh seafood, southern cuisine, and the Downtown Wilmington waterfront all seem to go together seamlessly, and the fare and atmosphere at The Pilot House is no exception to this rule.
Found within a former historic residence that dates back to 1870, this prime waterfront destination is a fine choice for an elegant dinner, breezy lunch, or just a nice drink and appetizer that's steps away from the Cape Fear River.
The Pilot House is located in a quieter section of the waterfront, with lush views of the open water and the natural landscaping front and center. This environment highlights the seafood-centric menu, which features a solid array of starters and snacks, shellfish specialties, sandwiches, entrees, meats and poultry, and even pasta.
Diners of all tastes can certainly be accommodated with the range of items, but visitors who love coastal fare will want to consider the seafood selections, which include southern specialties like Sweet Potato Grouper with mushroom ravioli, the shrimp and grits with kielbasa sausage, and the crunchy catfish with a cracker crumb crust and red eye gravy. With a colorful array of dishes that can cater to any sized appetite, or land or sea-faring craving, The Pilot House is a crowd-pleasing destination for good food with an incredible riverfront view.


All our dishes are cooked with fresh local meat, poultry, vegetables, and sustainable seafood, indigenous to our area. Our menu ranges from "down home cooking", to Cajun, as well as fused traditional Southern fare with a contemporary twist.

ABOUT THE PILOT HOUSE
In May 1978, The Pilot House Restaurant was founded by Mr. and Mrs. Thomas Wright Jr. as the first dining establishment in the newly restored historic Chandler's Wharf.
In our many years of service, we have endeavored to maintain a tradition of Southern regional cuisine. All our dishes are made from scratch using the freshest ingredients, as well as seafood and fowl, indigenous to our area. Our menu ranges from "down home cooking", to Cajun, as well as fused traditional Southern fare with a contemporary twist.
The restaurant has received laudatory press from Southern Living Magazine, The Washington Post, The New York Times, Fodor's, Mobil Travel Guides, and Frommer's.
The Pilot House Restaurant has been Wilmington's preeminent spot for regional fine dining, serving our locals, countless tourists and celebrities for over 25 years.
OUR HISTORY
The Wharf itself had been a bustling port for many decades of the 19th and early 20th Centuries. In those times, naval stores were an important commodity to the state of North Carolina. Naval stores are products prepared from the sap of the Long-Leaf Pine - a species once abundantly indigenous to the region. The products are tar and pitch, which were used as waterproofing agents in shipbuilding, and turpentine, and important solvent.
William Craig constructed the original restaurant building as a residence in 1870. Mr. Craig was a cooper, or a maker of wooden barrels. Many of Mr. Craig's barrels were almost certainly used for the storage and transport of the naval stores. The house was moved to its present grounds in 1977 from a location on Wooster Street.
Originally, The Pilot House Restaurant served a limited menu of salads and sandwiches, which were carried by the customer from the service window to an outdoor dining area (which is now the main dining room, or "porch" as locals know it). As the menu grew, most of the food was prepared in a remote kitchen in the wharf. In 1988, the secondary structure was built to house the modern kitchen, additional dining space, and offices. A riverfront deck was built was built in 1993, which extended from the original old porch of the restaurant to Nun Street. In early 2004, our existing bar was turned into a private dining area and part of our riverfront deck became the new home of our bar which offers a spectacular view of the Cape Fear River.
The Pilot House is Open 7 Days a Week!
Sun-Thurs 11:30am - 9pm
Fri and Sat 11:30am - 10pm
Please call for all reservations.
910-343-0200