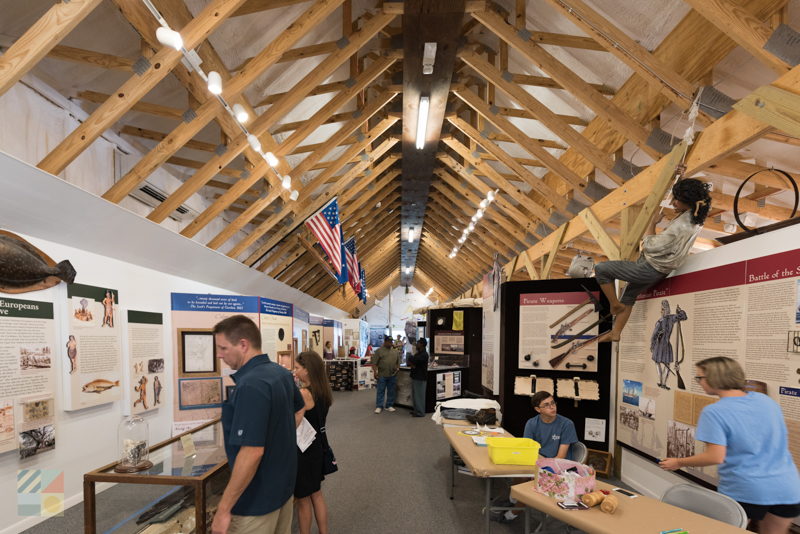 The North Carolina Maritime Museum at Southport is one of three maritime museums sponsored by the state that lies along the eastern portion of NC. The Southport branch focuses on the maritime history of the lower Cape Fear River, and contains a detailed and fascinating collection that covers shipwrecks, piracy, the Civil War, commercial fishing, hurricanes, and a number of other natural and manmade events that have left a permanent mark on the North Carolina coast. Voted one of the best attractions in Southport by newcomers and frequent vacationers alike, an afternoon at the museum is a must for any coastal lover who wants to dive right into the fascinating history and culture that this region supplies in abundance.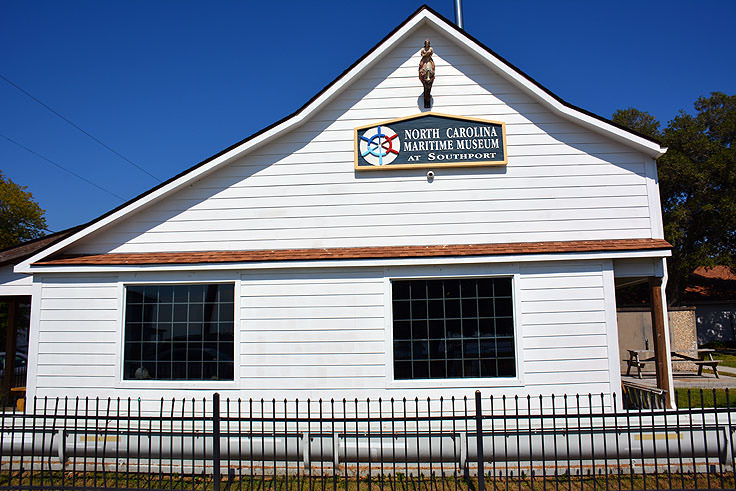 From the outside, the museum, which moved to its new location on the corner of Moore and Davis Streets in 2011, evokes an immediate sense of maritime nostalgia. With an exterior of white wooden planks, simple landscaping, and a wooden navy blue entrance sign, the site resembles a classic coastal cottage or a boat house rather than a museum, but this first impression only adds to the charm.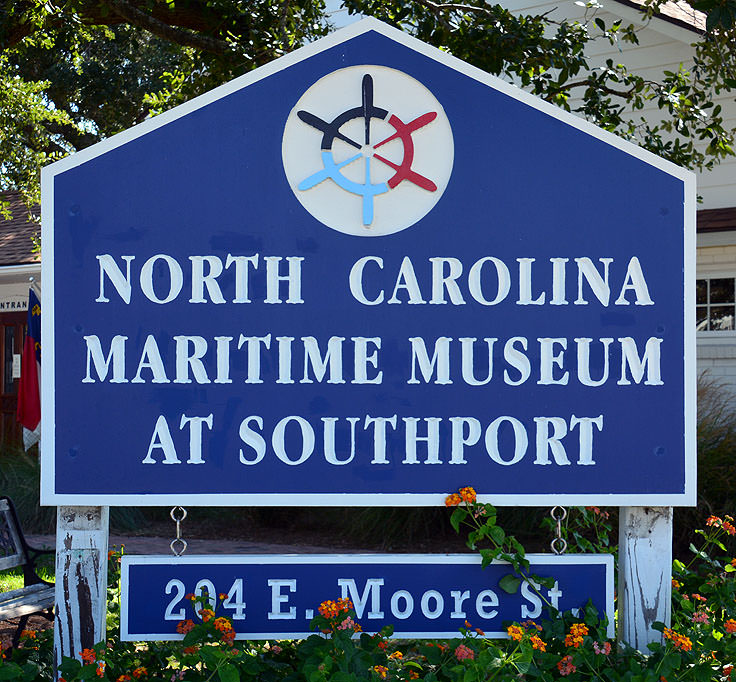 Inside, visitors will almost feel like they're touring the haul of an old ship, with crisscrossing wooden beams overhead that create an arc-like appearance for patrons touring the exhibits. Flags fly overhead, and down below, visitors can meander through countless displays and artifacts that cover all aspects of North Carolina's unique maritime history.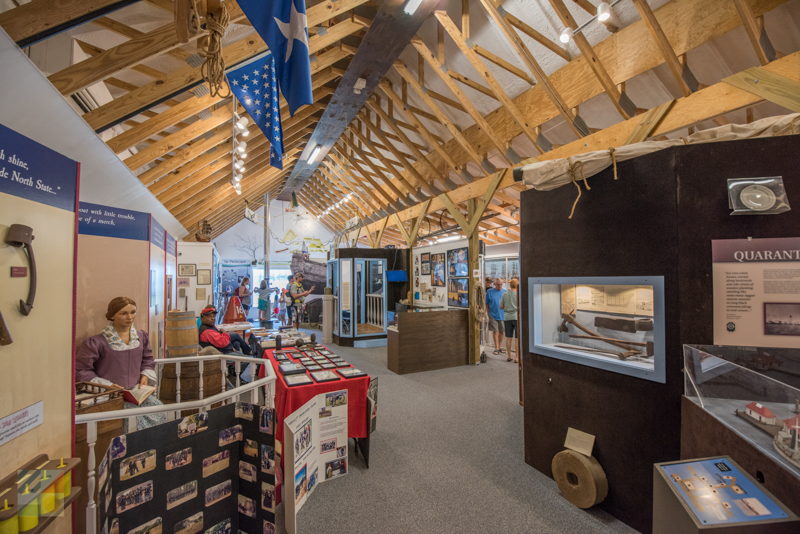 Once inside, visitors can admire a fragment of a 2,000 year old Native American canoe, read the desperate pleads for clemency by the notorious pirate Stede Bonnet before he was hanged, and view the relics from the original colonial port of Brunswick.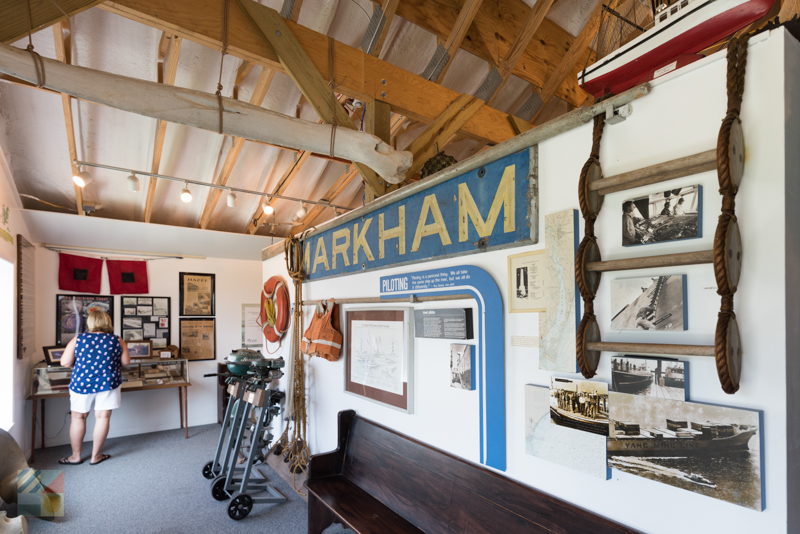 A ship model exhibit presents delicate and painstakingly made models of some of the region's most notable vessels, and a "River Pilots, Rescues and Aids to Navigation" section of the museum allows nautical fans to peruse a variety of instruments, both past and present, including a 48" Coast Guard nun buoy.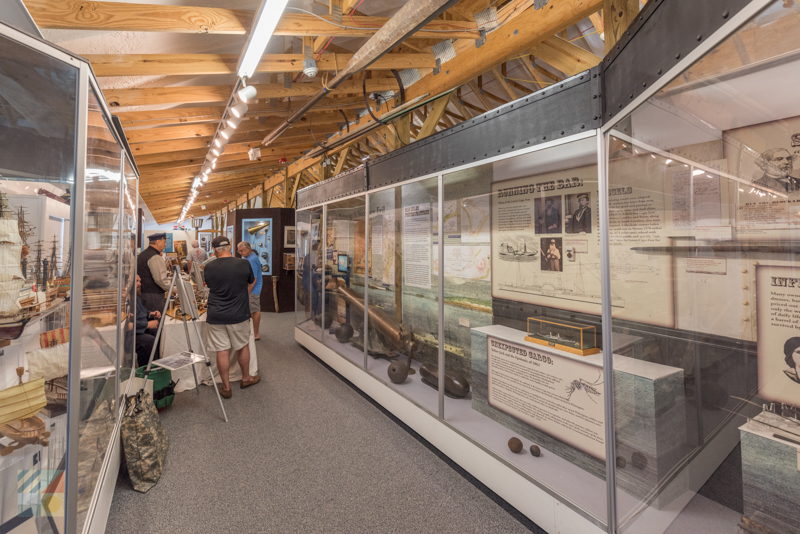 The museum also features an extensive exhibit which pays homage to the sport and commercial fishing industry which has put the region on the map. Displays in this section include a 9' foot model of a shrimp-boat net, anglers posing with their big catches, and a nearly 8' foot replica of a famous local fisherman, who perches slightly above the museum and watches the daily activities.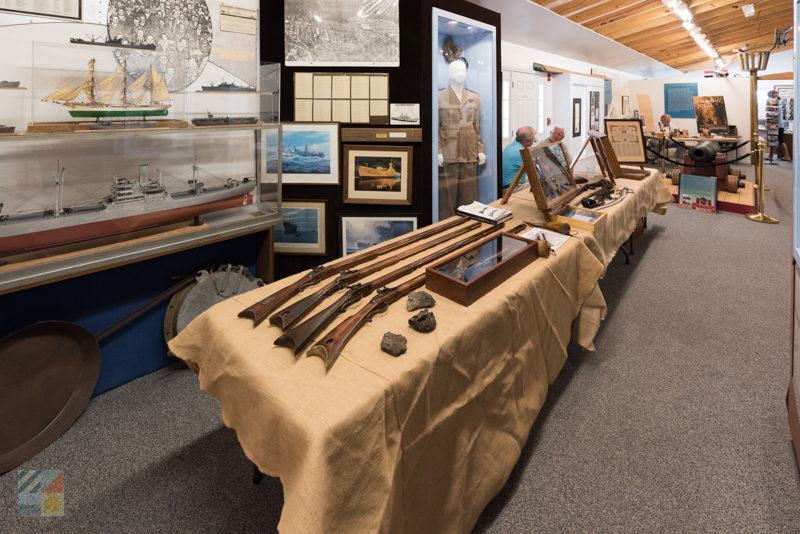 One of the most impressive collections includes the artifacts of the Civil War's blockade runners. This extensive display of exhibits, protected by panes of glass, features historical items that were once considered valuable items during the Civil War, including everyday staples such as buttons, spoons, sad irons, and even gin. With excavated cannons and cannonballs on full display as well, the exhibit presents a complete portrait of the dangers that faced the blockade runners, and the high cost of inflation that was a clear result of their hazardous and often deadly efforts to bring the comforts of home to the isolated south.
Visitors of all ages will also want to peer through the lens of the museum's own periscope - a first for North Carolina museums - which features incredible views of the lower Cape Fear Region.
In addition to regular and visiting exhibits, the North Carolina Maritime Museum at Southport also features a wide array of events year round, including regular educational programs and talks, biking tours of Southport, and special workshops geared towards adults and kids alike. A special summer series even focuses on the museum's youngest visitors, with special day camps dedicated to digging into Coastal Carolina's past in a fun and thoroughly engaging way. A complete list of upcoming events can be found online at the NC Maritime Museum's website at http://www.ncmaritimemuseums.com/southport/.
The museum is open year round, from Tuesday until Saturday, from 9:00 a.m. until 5:00 p.m., and special groups or educators can request more information or tours by calling the museum directly at (910) 457-0003. The museum is free to the public, although donations are always accepted, and frequent museum fans can become a "Friend of the Museum" to help provide educational programs, camps and field trips to new maritime explorers. Details on how to become a Friend of the Museum can be found online at http://www.friendsncmmsouthport.org/membership_info.html.
Southport's North Carolina Maritime Museum is considered a local treasure among residents and new visitors alike, and a tour through this coastal institution is sure to inspire maritime lovers of all varieties.From the ancient remnants of the early Native American local inhabitants to the recent tools used by modern day commercial fishermen, the NC Maritime Museum paints a complete portrait of generations of Southport's everyday life on theCape Fear River banks.
Is this your business? Update your listing by messaging us